DR. MARK | TRANSPLANT DERMATOLOGIST & MOHS SURGEON
Dr. Mark has focused much of his academic career on Transplant Dermatology, a specialized field of dermatology focused on the unique dermatological needs of patients who have had solid-organ transplants- like kidney, liver, heart, lung, and pancreas transplants.
 Through his academic endeavors, Dr. Mark was one of the co-founders of a unique Dermatology Center for Transplant Patients.  The center was built on premise of collaborative work between transplant physicians, medical dermatologists, and surgical dermatologists.  This innovative Dermatology Center for Transplant Patients has become a model for new transplant centers across the country.
Dr. Mark continues to see and care for solid-organ transplant patients and other high-risk skin cancer patients.  He does so in close collaboration with the patient's general dermatologist and transplant team. 
---
TO SCHEDULE A TRANSPLANT DERMATOLOGY
APPOINTMENT WITH DR. MARK, PLEASE CALL:
215-315-3197
---
Skin Cancer in Transplant Patients
 Solid-organ transplant patients are at an increased risk of developing skin cancer.  This is usually a result of the anti-rejection medications transplant patients take to preserve their new organs.
The most common skin cancer in transplant patients is squamous cell carcinoma.  Transplant patients can also develop other types of skin cancers including basal cell carcinomas, the most common type of skin cancer, and melanomas, the most serious type of skin cancer.
In addition to being at higher risk for developing skin cancers, skin cancers in transplant patients tend to be more aggressive and can grow at a faster rate compared to patients who have not had an organ transplant.  
Treatment of Skin Cancers in Transplant Patients
Early detection is one of the most important aspects of treating skin cancers in organ transplant patients.  Most skin cancers can be completely cured with excellent outcomes with prompt diagnosis and treatment, even in transplant patients.
As a Mohs Micrographic surgeon, Dr. Mark offers a variety of skin cancer treatment options for transplant patients.  Mohs surgery, the gold standard method for treating skin cancers, is a specialized technique of removing skin cancers.  Mohs surgery offers the highest cure rate for skin cancer patients and allows Dr. Mark to remove 100% of the skin cancer while leaving as much normal tissue behind as possible.  
For transplant patients who develop certain kinds of melanomas, Dr. Mark offers a particular melanoma removal surgical technique called a staged excision.  Staged excisions allow  which for complete examination of the skin's margins to ensure the highest rate of cure for melanoma.
Dr. Mark also prioritizes the prevention of skin cancers in the highest risk patients, including his transplant patients.  Through the use of a combination of topical creams, oral medications, medical, and surgical treatment modalities, Dr. Mark strives to lower the skin cancer burden for each of his transplant patients.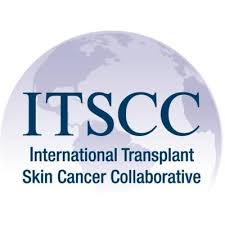 Skin Cancer Facts in Organ Transplant Patients 
95% of skin cancers in organ transplant patients are either squamous cell or basal cell carcinomas.

75% of skin cancers in organ transplant patients occur on sun-exposed areas like the head, neck, and hands.

Transplant patients have a 65-fold increased incidence of squamous cell carcinoma, a 10-fold increased incidence of basal cell carcinoma, and a 3-fold increased risk of melanoma

10 years after a transplant, the incidence of skin cancer is nearly 30%.  20 years after a transplant, the incidence of skin cancer is 40-60%.

The rate of skin cancer in people who have had transplants can be as high as 80% within 20 years after the transplant.

The risk of developing a skin cancer increases with time after the transplant.  Heart transplant patients see a rise in the incidence of skin cancer about

 

years after their transplant.  Liver and kidney transplant recipients see an increase in the incidence of skin cancer

 

about 10 years after transplant

One study showed that 25% of deaths were caused by skin cancer four years after a heart transplant
Facts about Organ Transplantation
There are more than 160,000 organ transplant recipients living in the United States

There were nearly 40,000 transplants in 2019.  

More than 112,000 people are waiting for an organ transplant today

57% of all transplants performed in the US are kidney transplants.  23% are liver transplants.

 

10% are heart transplants and 7% are lung transplants

The first human organ to be transplanted was a kidney in 1954.

Since organs were first transplanted in 1954, there have been more than 750,000 transplants performed in the US.