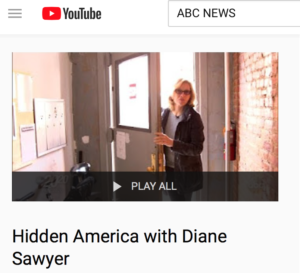 It's an honor to be part of the ABC News Hidden America team.  The ABC News "Hidden America" series has grown into a moving initiative under Diane Sawyer's leadership.   With each installment the "Hidden America" team sets out to shine a light on the people, places and stories of struggle and, hope that are not always in the headlines.
The team wanted to put all the stories in one place.  So stop by the YouTube Hidden America playlist and check out the reports which also often spotlight the creative and innovative actions of some extraordinary Americans.
Thank you for watching.
CLICK HERE TO SEE THE
HIDDEN AMERICA WITH DIANE SAWYER
YOUTUBE PLAYLIST